Delete Messages on iPhone
How to Delete Messages on iPhone
Wondering how to deleted all messages on iPhone completely and permanently in a simple way? Take it eay! This article can give you a hand.
When you deleted your messages from iPhone, your data is still on your device and only password protected by Apple instead. Your "deleted" messages still can be recovered by some data recovery tool. So, if you want to delete your message completely and permanently, you need the help of professional data erase tool. iPhone Data Eraser is such a powerful software, which can help iPhone users to delete piles of text messages completely and permanently. What's more, you can also delete all your data of iPhone with this software, including contacts, call history, photos, videos, etc. Once these data are deleted, they even can't be recovered with any iPhone Data Recovery software in the market.
Now, download the free and trial version of iPhone Data Eraser to have a try!
How to Delete Messages on iPhone
Step 1.

Connect your iPhone to computer

Install and launch the iPhone Data Eraser on the computer, and connect your iPhone to it. After that, your iPhone will be detected by the software automatically, and the following interface will appear.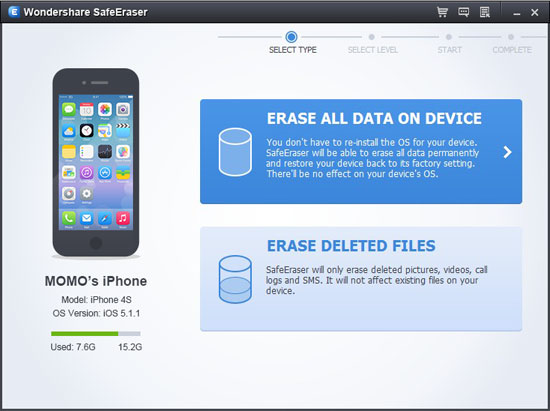 Step 2.

Choose a type of data erasing

From the main window, you will see some information about your device on the left side. On the right side, there are two kinds of data erasing ways:

ERASE ALL DATA ON DEVICE

: Erase all data and settings on your device permanently, returning it to a new one.

ERASE DELETED FILES

: Only erase deleted data on your device like pictures, videos, call logs and messages, making them unrecoverable.

You should choose the "ERASE ALL DATA ON DEVICE" option, so that you can continue the subsequent steps.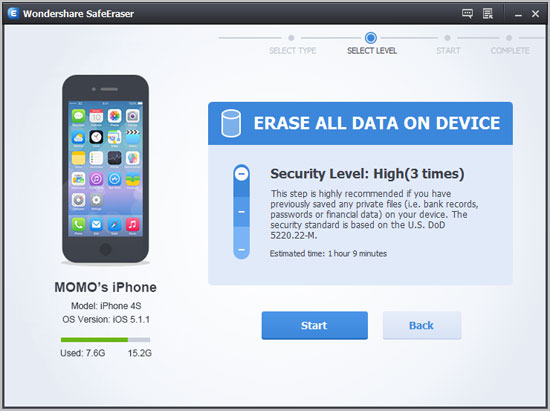 Step 3.

Delete messages on your iPhone

There are three security levels to erase all data on your iPhone:

Low

: Overwrite all of your data with zeros to ensure that the files are not recoverable.

Medium

: Overwrite your device with junk files to ensure that the files are not recoverable, and no one knows that you've erased your device.

High

: Erase and overwrite your device three times, and the security standard is based on the U.S. DOD 5220.22-M, more secure for confidential data destruction on your device.

Choose one of them and click "Start" button to delete data on your iPhone.

Note: Please don't disconnect your device during the process. Or data on your device will not be completely erased.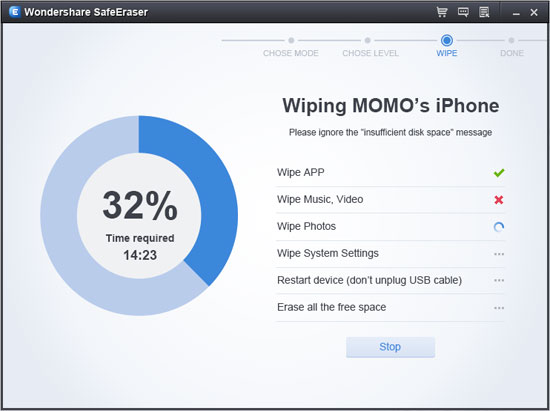 Step 4.

Use your device as a new one

When the data erased completely, you'll get a totally new iPhone. You can import the data that you previously backed up to your iPhone and enjoy it.

Now, download this program to have a try!

comments powered by

Disqus