Restore iTunes from iPod
How to Restore iTunes from iPod after a Hard Drive Crash
iPhone/iPad/iPod transfer, as a safe and secure transfer software which not only can transfer iPhone and iPod picture, music, videos and podcast to computer without iTunes, also can transfer different data from PC to iPhone, iPod easily. Transfer playlist on iPod and iPhone to iTunes on Windows computer.
• You can manage iPod and iPhone without iTunes, so easy!
• Copy, transfer picture, songs, video and playlist from iPhone and iPod to PC
• Transfer iPod & iPhone songs, video, photo back to iTunes
• A useful iPhone iPod backup uitility that works on all Windows
Many people may ask:
"I have just opened iTunes and for some reason, everything is now gone! Why this could have happened, and if there is any easy way to restore it?
I have backed-up my purchases to a disk, but not anything else--and it would be pretty time-consuming finding all my music and videos and putting them back on one by one.
Also, I'm worried that if I connect my iPod to my PC, iTunes will sync with it and delete everything off that as well. Would Windows System Restore fix this? "
Now, we will show you the solution of how to restore your iTunes from iPod with iPhone/iPad/iPod Transfer
Step 1. Please download and install iPhone/iPad/iPod Transfer on computer.
Click here to download iPhone/iPad/iPod Transfer
Important note:
Before you run our iPhone/iPad/iPod Transfer, please be sure you have installed iTunes on your computer, and you can manage your ipod device with no problem. If you do not install iTunes, you can download if from
apple.com
.
And you should connect the iPod touch to PC and disable the auto sync of your iTunes.
Step 2. Launch iPhone/iPad/iPod Transfer
Make sure that you have installed and launched iTunes. After your iPhone/iPod/iTouch connected to PC, Launch the program you will see the following UI. Normally, the program will search the device automatically. If the device is enabled, the files (songs/movies/photos) will be shown in the list. iPhone/iPad/iPod Transfer will auto scan your iPod iPhone playlist and display what on your iPhone or iPod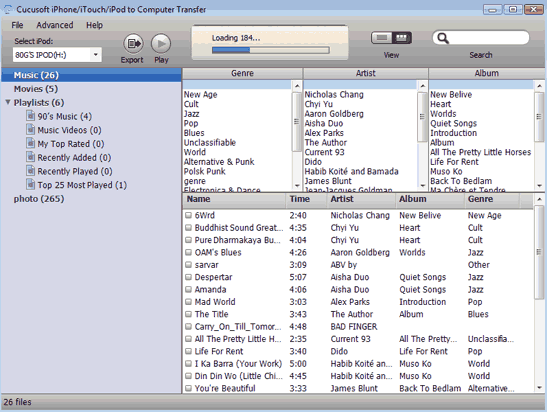 .
Step 3. Choose those you want to restore to iTunes, then click the Export button
There are many playlist on your iPhone or iPod. Take transfer music from iPhone to iTunes as an example. You can click one of the music playlist and the select the songs you want to export. Then click the "Export" button. And you can export music from iPod Touch to iTunes.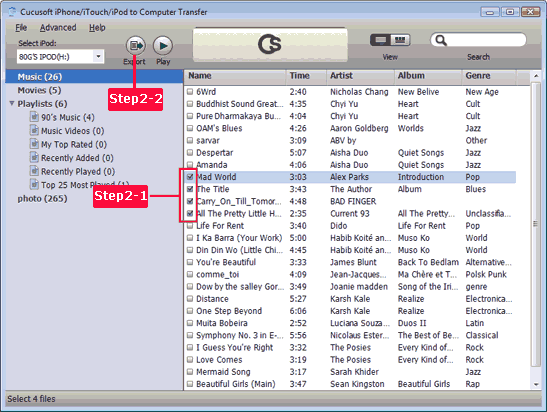 Step 4. Transferring songs from iPod touch to iTunes
After clicked the Export button, the following window will pop up, you can choose transferring songs to iTunes directly. You can set the output folder at
Advanced->Options
before transferring.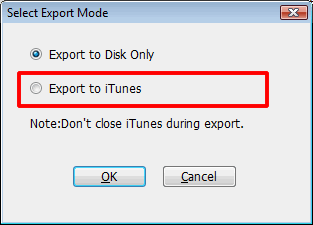 Well, if you have select Export to iTunes and your choosen music will be restore to iTunes fast. As you known, their must be other playlists such as movie playlist and photos. You can also restore movies to iTunes with this iPhone/iPad/iPod transfer. It is very easy for your to restore Photo to iTunes with it.
Now, you have alreay finished the step of restore iTunes from your iPod after a hard drive crash.
iPhone/iPad/iPod Transfer
is an useful iPhone/iPad/iPod utility designed to help you back up all your data from your iPhone, iPad, iPod,or iTouch. With the help fo this iPhone/iPad/iPod Transfer, you can back up and restore all of your iPad, iPod, iPhone, or iTouch content, including your favorite songs, videos, photos, play lists and more.
comments powered by

Disqus